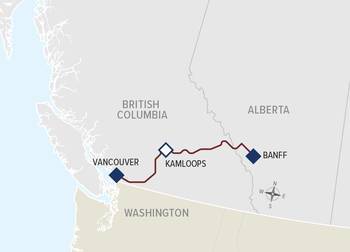 Rocky Mountaineer: First Passage to the West - Vancouver to Banff Rail Only
GoldLeaf + Hotel

Verbiage days : 1 - 1
Vancouver Rocky Mountaineer Train Station Check-In
Please make your own way to the Rocky Mountainer Vancouver Train Station (1755 Cottrell Street) between 7:00 AM and 7:30 AM. If you have not yet checked-in for your train journey online you may do so at this time. A boarding pass and information on your Kamloops accommodation will be provided during check-in. Check-in must be completed at least 30 minutes prior to train departure time. Ensure your luggage is clearly labelled with your name and contact information. Rocky Mountaineer luggage tags will be provided upon arrival at the station.

Rail days : 1 - 1
Vancouver to Kamloops
Board the Rocky Mountaineer train at the Vancouver Station at 7:30am PT. Travel from the coastal city of Vancouver to Kamloops, in the heart of British Columbia's interior.On today's journey you will see dramatic changes in scenery, from the lush green fields of the Fraser Valley, through forests and winding river canyons surrounded by the peaks of the Coast and Cascade Mountains, to the desert-like environment of the BC Interior. Highlights include the rushing waters of Hell's Gate in the Fraser Canyon and the steep slopes and rock sheds along the Thompson River. Breakfast & lunch are included onboard.Your day concludes as the Rocky Mountaineer travels along the shores of Kamloops Lake into Kamloops between 6:00pm and 7:30pm PT. Spend the evening exploring the city of Kamloops or relaxing in your hotel room.

Transfer days : 1 - 1
Coach Transfer Kamloops Station to Kamloops Hotel
Upon arrival at the Kamloops train siding, you will be transferred by motorcoach to your overnight accommodation.

Accommodation days : 1 - 2
Kamloops Accommodation
Upon check-in for your train departure you will receive a boarding pass which will indicate your Kamloops accommodation. Your accommodation in Kamloops will be of a moderate standard, but will include all the essential amenities to make your stay comfortable.

Transfer days : 2 - 2
Coach Transfer Kamloops Hotel to Kamloops Station
Early this morning, you will be transferred by motorcoach to the train siding from your hotel. Your pick-up times will be provided with your final travel documents.

Rail days : 2 - 2
Kamloops to Lake Louise
Board the Rocky Mountaineer train at the Kamloops Station at 6:25am PT, to continue your journey east to the mighty Canadian Rockies and the province of Alberta. Travel across ranchlands, along rocky lakeshores, over high mountain passes and through the remarkable tunnels that form part of the rich rail history of the Canadian Rockies. Breakfast & lunch are included onboard.Highlights include Craigellachie, where the last spike of the Canadian Pacific Railway was driven, the climb over Rogers Pass, the Kicking Horse Canyon, the Spiral Tunnels and, the glaciers and snow-capped peaks of the Canadian Rockies.

Rail days : 2 - 2
Lake Louise to Banff
Continue on to your final destination in Banff. Please note you will not disembark the train at Lake Louise. Our expected arrival time in Banff will be between 19:00 and 20:30.

Transfer days : 2 - 2
Coach Transfer Banff Train Siding to Banff Guest Centre
Phone Number: 1-800-653-4105Drop-off location: Elk + Avenue HotelUpon arrival at the Rocky Mountaineer Banff Train Siding, you will be transferred from the train to the Rocky Mountaineer Banff Guest Centre, located downtown at the Elk + Avenue Hotel (333 Banff Avenue). Taxis will be available at this location. If you have booked a private transfer to your hotel or are being met by friends or family, please direct them to this location. There is no public access to the Rocky Mountaineer Banff Train Siding.

days : 2 - 2
Return Home



All prices are per person, double occupancy, subject to availability and are quoted in U.S. Dollars. These pages are not endorsed or supported by the tour operator in any way. All information presented is based on promotional material provided by the tour operator. All prices, itineraries, accommodations and dates are subject to change without notice and at any time by the tour operators. Availability is limited and must be reconfirmed at time of booking. The prices on this website are not guaranteed. We are not responsible for errors, omissions, or changes in pricing. Please call us toll free at 1-800-942-3301 to confirm availability and pricing.